Post of consultant neurosurgeon at the Neurosurgery Clinic
Do you value professional freedom and responsibility? Would you welcome the challenge of being involved in shaping and developing our new Neurosurgery Clinic?
The Neurosurgery Department at Örebro University Hospital was founded in 2013. We are now moving on to the next phase by setting up a new Neurosurgery Clinic in Sweden. Work up to now has been carried out at the Neurosurgery Section with 3-4 senior consultant neurosurgeons. The scope of the work at the section has been gradually augmented to cover a broad spectrum of neurosurgery conditions and procedures. The new clinic will continue to offer a comprehensive range of specialisations, with the exception of paediatric neurosurgery and certain functional neurosurgical procedures. Within endovascular surgery, a great deal of experience and neurointerventional expertise is available at a recently established intervention unit.
The work of the department is expanding, and we are now seeking to appoint a consultant neurosurgeon. The successful candidate will have at least 4-5 years' clinical experience following qualification as a specialist. Academic work would be a merit.
Continuity and specific responsibility for the individual patient
To a certain extent, neurosurgery activities at Örebro University Hospital are run differently compared with other neurosurgery units around the country. The closest comparison is the position of consultant in the British healthcare system, with an emphasis on continuity and specific responsibility for the individual patient. As consultants, we regularly perform duties such as admission and discharge, issuing of referrals, and more straightforward prescription procedures. We have just one duty team, which functions mainly as an on-call and consultation unit, but which could involve duties that are often associated with the on-call system in the primary healthcare sector and the work of an intern. We work closely with other clinics at the hospital, mainly the Neurology Clinic and the Surgical Clinic. The majority of emergency admissions are assessed initially by colleagues in these specialist areas and many patients are cared for at these departments.
The operating and monitoring equipment is state of the art, with the latest Leica operating microscope with three fluorescent filters, a complete range of neuroendoscopic equipment (Storz), neuronavigation equipment (Stealth Station), a perioperative ultrasound system (BK 5000), an ultrasonic aspirator (Sonopet), a complete range of equipment for neurophysiological monitoring (ISIS Expert Inomed), and access to an O-arm system. In autumn 2021, laser ablation equipment will be installed for intracranial tumour treatment. Multimodal monitoring of neurosurgical intensive care patients will commence in spring 2021, including continuous microdialysis and measurement of cerebral blood flow. Our Neuroscience Intermediate Care Unit (NIMU) has moved into new premises close to the hospital's Intensive Care Department.
Best University Hospital and a prestigious medical training programme
Örebro University Hospital has received the Best University Hospital in Sweden award two years in succession. A medical training programme has been run at Örebro University since 2011, and around 50 doctors graduate each term. According to a national student survey it is one of the best medical programmes in the country. Neurosurgery is based at the University Hospital and maintains close links with the University. Research at the unit has expanded significantly and there are several PhD students. A highly effective research infrastructure has been created, and for anyone who is looking to commence or continue research, both Region Örebro County and the University have established an outstanding research environment.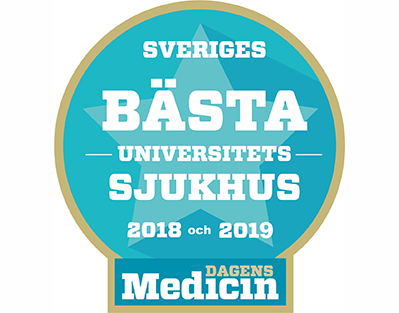 Örebro is the seventh-largest urban centre in Sweden with a population of 120,000. It is a modern university town but with classic traditions, reflected in the city's centrally located Örebro Castle, where the first member of the Bernadotte dynasty was crowned king in 1811. Örebro offers a broad range of cultural activities, with several theatres and a rich and varied choice of music covering different genres, including the internationally renowned Swedish Chamber Orchestra. Örebro Open Art and Live at Heart are events that have acquired a reputation that extends far beyond the borders of Sweden. The city also offers a wide variety of restaurants and cafés, and on the sporting side it has a top-flight ice hockey club and football club.
Är du neurokirurg och intresserad av att arbeta på Universitetssjukhuset Örebro, skriv ditt namn och dina kontaktuppgifter i formuläret nedan och skicka in till oss så tar någon av oss kontakt med dig.
If you are a neurosurgeon and interested in working at Örebro University hospital, fill out the form with your name and how we can get in touch with you, and someone from us will contact you.
Did the content help you?
Last updated: Wednesday, April 21, 2021